No one can afford to spend during a pandemic, much less sponsor a financially-riddled football club. Hell, there may not even be any cash to save. So it was crunch time for Valencia, who desperately needed a new shirt sponsor after the Spanish government outlawed betting deals for LaLiga teams at the end of the 2020/21 season.
But there are occasional rays of hope in austere times. Plastered across the advertisement boards last season were the words "$VCF Fan Token by Socios.com". It is part of a collaboration with Chiliz, a blockchain provider that owns the Socios fan engagement platform.
The sponsorship had replaced online bookmaker Bwin, which originally had a 3-year contract in place since June 2019. Valencia were the first football club to promote fan tokens – a form of cryptocurrency – on shirts, which connects supporters across the world in new and engaging ways. This season, online car retailer Cazoo has taken over the front of the Valencia jersey.
"It was difficult to find a sponsor for sure because in general, the first thing that companies cut is the marketing budget," commercial strategy coordinator Josep Borrell shared with Batzine. "We found the opportunity (with Socios) very interesting as it was more than a lucrative partnership; they could help us achieve certain objectives."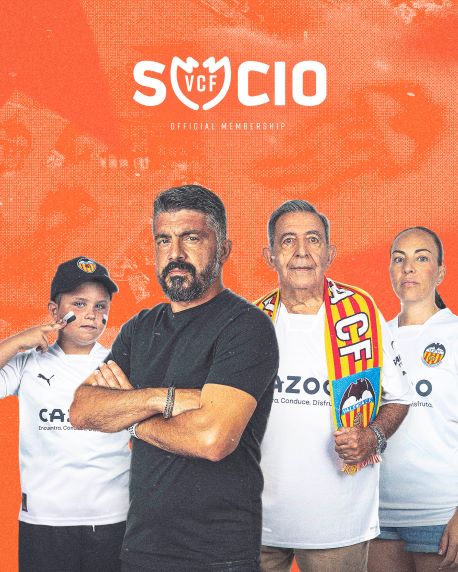 These fan tokens allow fans to have a stake in the club and enjoy perks. By paying a small fee, which can be as low as 2 euros, they are able to participate in polls that determine certain decisions – the shirt design worn by the players for their first Copa del Rey game in October last year was voted for on the Socios app.
Borrell added that 87 per cent of Valencia fans are international, which made sense to pursue the deal. With barriers like time difference and low access to live matches, social media emerged as a powerful tool for interaction.
"We want to create relationships with them that we didn't have in the past, and we can get to know who our fans are," he said. "The traditional 90 minutes of football on TV also doesn't suit our younger audience anymore, so having fan tokens is going to help us reach them in a more natural way."
What's more, Valencia see this as a disruptive statement to world football, a long-term strategy to get more people involved with the club. In an online era when fan engagement is crucial, fan tokens are more of an experience rather than a financial asset. So it was "good news" when Los Che recorded more interactions on the app compared to other teams on average.
He concluded: "That benefits Valencia as we're going to be able to connect with our fans and let them feel a sense of belonging with us that maybe they didn't have before."