Valencia (2)
Villareal (1)
Soler 86′
Guedes 90+1′
Moreno 40′
What a sick comeback. First, we dished out revenge against our regional rivals in the 42nd Derbi de la Comunitat.
And then we did it with a one-two sucker punch – in the 86th minute and at the death. It was a big big win for Los Che against the Yellow Submarines and we did it with some swag.
The last time we faced Villarreal in October 2020, we slumped to a 2-1 loss, in a forgettable performance that was sluggish and devoid of ideas. For the first 45 minutes of this game, it looked like it would go that way too.
The game had a tepid start for the home side, as fruitless crosses and corners knocked into the opponent's box failed to find their targets. There was fight but of the wrong type: senseless tackles by Soler and Uros Racic were met with yellow cards each, meaning both would miss the next match against Levante.
Things turned even worse as Gerard Moreno headed a cross towards goalside, only for an unsuspecting Jose Gaya to accidentally knock it aside with his arm as he leapt for the ball. We groaned and Moreno cheered. 1-0 Villarreal.
But if one thing is clear, it is this: despite our performances this season, the team remains chock-full of talent. If only we could pull it together and play with passion.
That we did in the second half, when a rejuvenated team came back roaring with a performance that was full of spirit and commitment. Like an automatic shotgun, we peppered Villarreal's goal with shots and crosses relentlessly but failed to make a breakthrough for most of the second half.
With nothing left to lose, Javi Gracia tossed the dice one more time: Manu Vallejo came on for Daniel Wass while Racic left for the on-loan Christian Oliva. Valencia switched to a 4-3-3 and the play paid off.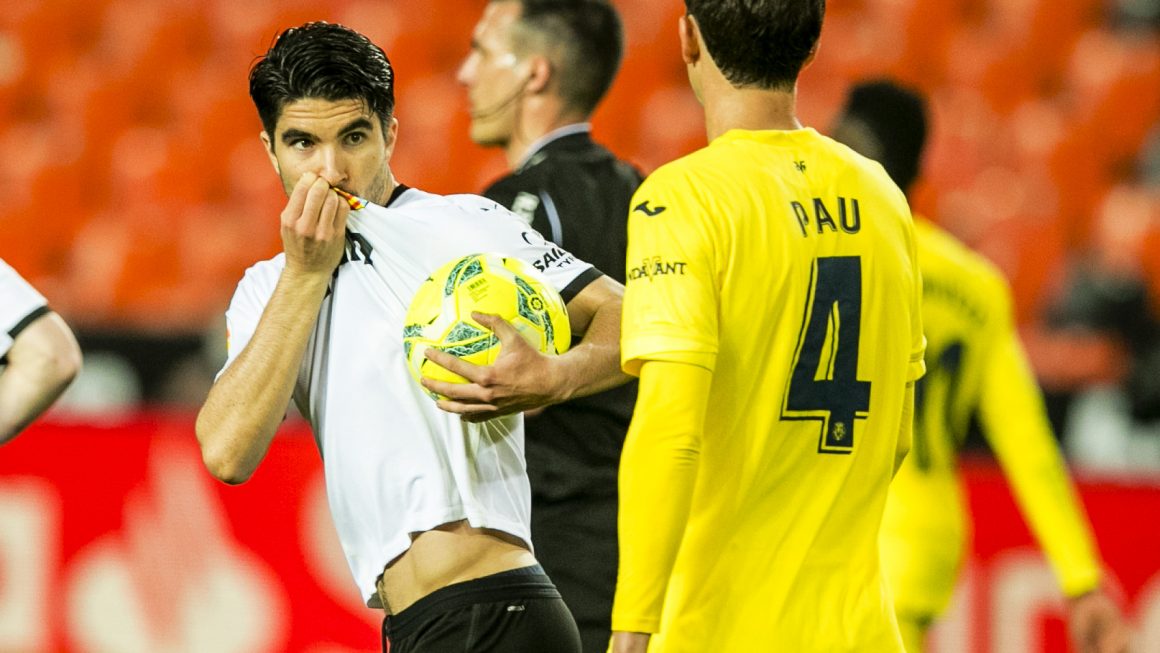 A rash foul by Raul Albiol caught Maxi Gomez between his feet in the box. Penalty. And who else to take it but Iceman Carlos Soler. He sent the keeper the wrong way as he made it six penalties scored so far. Cool stat: Soler is now the joint top-scorer in the league for penalties.
Soler kissed the badge – we love this guy – and shouted at his teammates to keep going. Tired legs started to kick in but Los Che pressed on. We were finally rewarded when inspired substitute Oliva supplied Guedes with a simple pass from outside the box, and the Portuguese winger scored from the edge. The team's comeback was complete. Thank you and good night.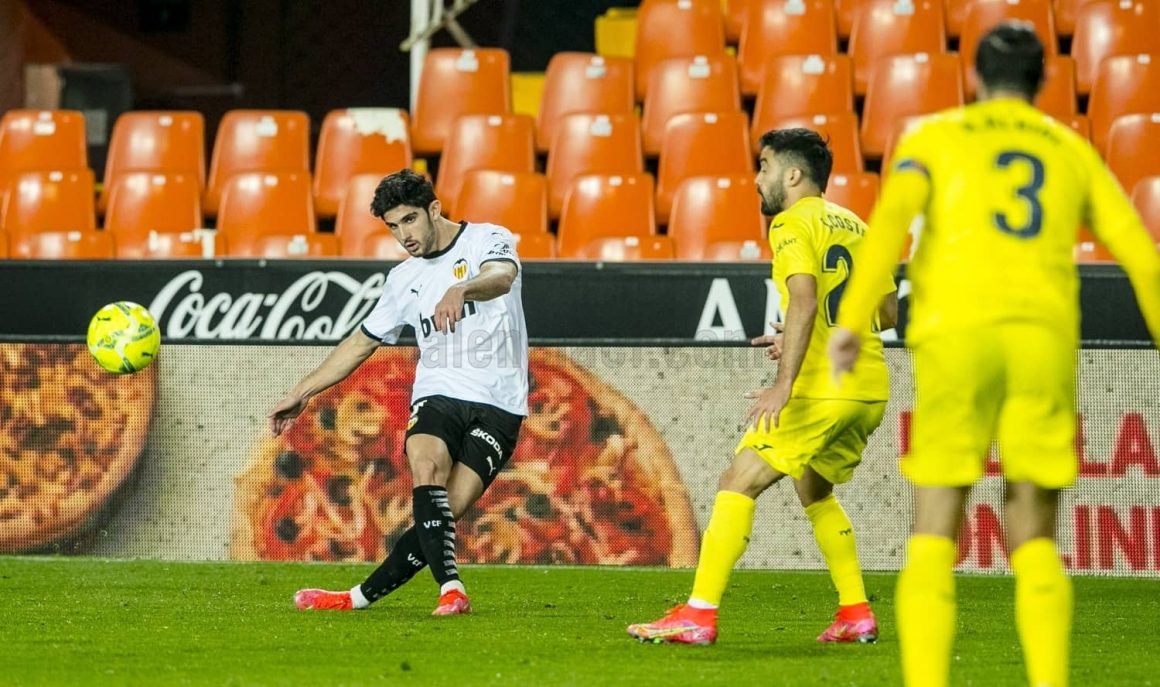 "We were facing a very good team today, but we know that if we played well we can pick up results, and we know we did that today. Everyone has to be ready to step up," said Guedes.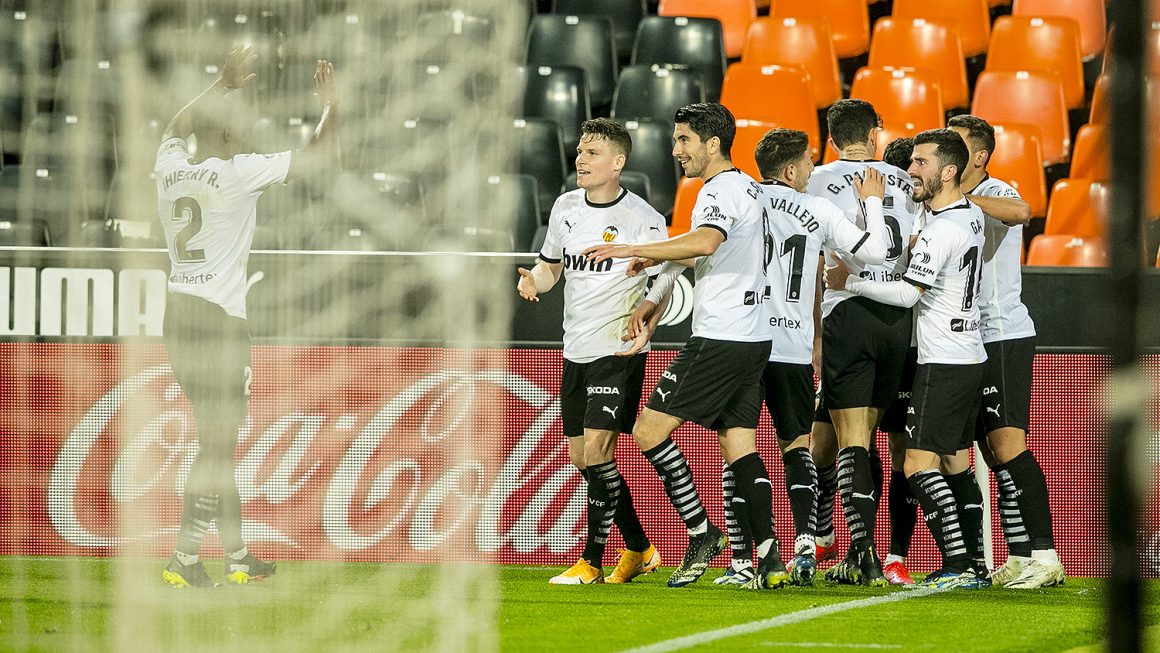 The result pushed us into 11th on 30 points. It's nothing to shout about but in a season of rebuilding, it's the least we can hope for. Next game is against Levante and we will be without several key players including Maxi Gomez who also picked up a yellow in the second half.
It's going to be a tough one. But if we play with the same passion displayed today, victory is ours to take.