As a Barca fan, it pains me to say that the upcoming game against Valencia has never felt so big a fixture to Barcelona until now. Unlike previous seasons, where one can easily pick a favourite for the game, both sides have never felt so equal, in almost all aspects.
In the LaLiga table, both Valencia and Barcelona have 12 points. Moreover, the 2 clubs' squad changes have mirrored each other in recent seasons, with the untimely but predictable departure of Lionel Messi revealing that Barcelona has, in fact, been operating at Valencia's level this whole time, without their legendary No. 10. 
It feels surreal to young Barcelona fans who fell in love with the club in the Messi era to watch their team play without the Argentine talisman.
The Catalan giants have been relying on Memphis Depay for goals, who netted 3, but none against Atletico Madrid and Champions League opponents. The hard-working Martin Braithwaite, who scored a brace in Blaugrana's first-round win against Sociedad, will be out for 3 months due to a knee injury. The Manchester City legend, Sergio Aguero, out for 4 months, is already forgotten in fans' minds. With Luuk De Jong as their main striker, Barcelona have been goalless in 5 out of their 6 most recent games in all competitions, except the late equaliser against Granada by centre-back Ronald Araujo.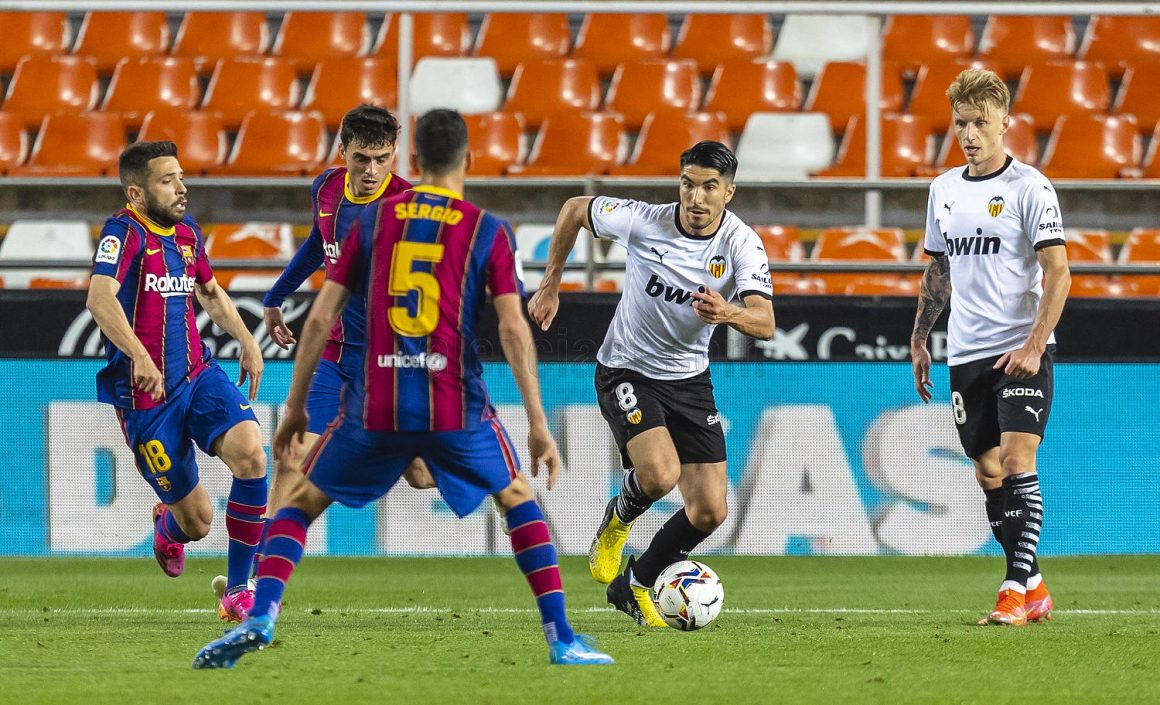 This lack of a reliable goal scorer is also felt by Valencia, when their top scorer last season was midfielder Carlos Soler, who netted 11, while Maxi Gomez and Goncalo Guedes have not had their best form in front of goal. In fact, the last player to score at least 20 goals in a season for Valencia was Roberto Soldado, who left for Spurs 8 years ago. The 2 teams' forms are also somewhat similar, seeing winless streaks after honeymoon periods for new staff (Depay for Barca, and coach Jose Bordalas for Valencia).
At the back, both sides' performances have not been too impressive, but at least they have two reliable keepers, who just 2 years ago were still teammates at Barcelona. From a neutral point of view, the fixture will be a neck-and-neck, but ultimately uninspiring one, where most interesting events will come from defensive errors rather than brilliant offensive movements.
Long gone are the days of Pep Guardiola's dream team facing David Villa, David Silva and Juan Mata at the Mestalla. To an optimistic Barca fan, any hopes left for positive football are placed on a magical touch from Depay or Ansu Fati, or an Araujo header. To a pessimistic Cule like me, though I would prefer to call myself realistic, the fixture's result will be less important than the performance of young talents like Sergino Dest and Pedri.
It is, though, perhaps the most important to coach Ronald Koeman, who is desperate for a win to save his job, especially against the club that sacked him 13 years ago.
Linh Tran has been a Barcelona fan since 2008, who started watching the club in Ronaldinho's era. Based in the United States, he is studying for his Math PhD at Yale University.
The views expressed in this article are the writer's own and do not represent Batzine's.