They observed, they played, and they got inspired. For one week, 18 Singapore youth footballers got a taste of elite European football when they made a 11,000km journey to the Ciudad Deportiva de Paterna – the training ground of Valencia CF.
By the Spanish Mediterranean coast, they got the opportunity to watch Los Che's first team in action up close. The silky flicks of Rodrigo, barnstorming runs of Maxi Gomez and the quick feet of Ferran Torres were all watched in awe on the training pitch every day.
The visit was part of the Singapore Olympic Foundation–Peter Lim Amunt Valencia Football Camp. ActiveSG Football Academy, a national youth initiative, handpicked the participants through a competition – the 'Road to Valencia Youth Football Tournament 2019' – where 280 boys took part.
These players were chosen not only because they were good, but also for their conduct. "We didn't only just choose the best players, but also chose those who showed good values and sportsmanship," said former Singapore national footballer Aleksandar Duric, who heads the academy. "It's about giving opportunities to the different type of kids."
In Valencia, the 18 players not only got to observe, but also trained and played in two friendlies with local youth clubs. "It was an eye opener for the boys, going to a facility like that. It's almost like a football factory," said academy coach and national Singapore footballer Daniel Bennett, who accompanied the team.
For example, he shared that at Valencia, coaches tailored specific training programmes for individual age groups. One in particular involved zero work with a football and lots of running instead, as coaches drilled players in their movements off the ball. This hones their spatial awareness and sharpens their understanding of the game.
"There is a specific footballing criteria for each age group, and kids must fulfil the various criteria before they get to move on to the next stage. You've got incredible coaches there with their methodology and training regimes," said Bennett.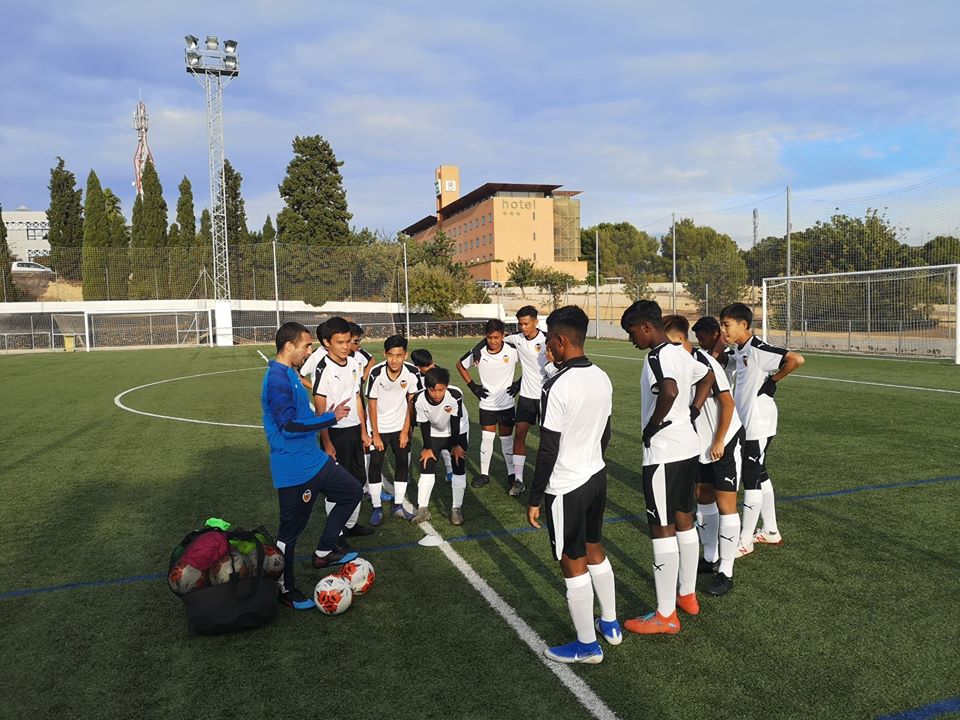 And no footballing trip to Valencia would be complete without a visit to the historic 96-year-old Mestalla, where the group were given a stadium tour. They also watched the pulsating 2-2 Champions League draw with Chelsea.
"If you look at their Wall of Fame, you'd know straightaway that you're at a big club," said Duric, who brought youth players last year. "It's a historical place and a lot of great players went through these doors and carried the Valencia name on their chest."
"We got to know the different styles of football, and saw how intense it was over there," said participant Fabian Lim, 14, who was visiting Europe for the first time.
"I learnt that even if you are a good player with good skills, football is a team game so you have to rely on your team mates. It's not a one-man show."
The visit, co-organised by the ActiveSG Football Academy and Singapore Olympic Foundation – Peter Lim Scholarship, can hopefully spur the boys on back in Singapore, added Bennett.
"They have seen the professionalism of the sport, and we hope they can carry this experience forward with them in their careers. The boys are true Valencia fans now. This trip is something they won't forget."